Red Seal Occupational Standard - Roofer
Table of Contents
RSOS Products for Download
The Roofer Red Seal Occupational Standard (PDF, 2.4 MB) is developed by Canadian trade representatives. It collects information about the trade as it is practiced across Canada.
This RSOS information is combined in several ways to generate several RSOS Products, each these is based on information contained in the complete RSOS, and is geared to user needs:
Overview
Foreword
The Canadian Council of Directors of Apprenticeship (CCDA) recognizes this Red Seal Occupational Standard (RSOS) as the Red Seal standard for the Roofer trade.
Background
The first National Conference on Apprenticeship in Trades and Industries, held in Ottawa in 1952, recommended that the federal government be requested to cooperate with provincial and territorial apprenticeship committees and officials in preparing analyses of a number of skilled occupations. Employment and Social Development Canada (ESDC) sponsors the Red Seal Program, which, under the guidance of the CCDA, develops a national occupational standard for each of the Red Seal trades.
Standards have the following objectives:
to describe and group the tasks performed by skilled workers;
to identify which tasks are performed in every province and territory;
to develop instruments for use in the preparation of Interprovincial Red Seal Examinations and assessment tools for apprenticeship and certification authorities;
to develop common tools for apprenticeship on-the-job and technical training in Canada;
to facilitate the mobility of apprentices and skilled workers in Canada;
to supply employers, employees, associations, industries, training institutions and governments with occupational standards.
Any questions, comments, or suggestions for changes, corrections, or revisions to this standard or any of its related products may be forwarded to:
Trades and Apprenticeship Division
Apprenticeship and Sectoral Initiatives Directorate
Employment and Social Development Canada
140 Promenade du Portage, Phase IV, 6th Floor
Gatineau, Quebec K1A 0J9
Acknowledgements
The CCDA and ESDC wish to express sincere appreciation for the contribution of the many tradespersons, industrial establishments, professional associations, labour organizations, provincial and territorial government departments and agencies, and all others who contributed to this publication.
Special thanks are offered to the following representatives who contributed greatly to the original draft of the standard and provided expert advice throughout its development:
Bryan Anderson - Northwest Territories
Matthieu Blouin, B.A. - Quebec
Gary Bye, RSE - Alberta
Shane Dunn, RSE - New Brunswick
Troy Ferreira, RRO - Canadian Roofing Contractors Association
Burton Frail, RSE - Saskatchewan
David Herman, RSE, GSC - Alberta
Daniel W. Jolicoeur, RSE - Manitoba
Edgar LeBlanc Jr., RSE, RRO - New Brunswick
Stuart MacLeod, RSE - Nova Scotia
Daniel Nosaty, RSE - Manitoba
Gerald Phillippo, RSE - Nova Scotia
Enzo Riccio, B.A., C. of Q. - Ontario
Reynald Rochon, C. of Q. - Quebec
Ed Visscher, RSE - British Columbia
Callum Walsh, RSE, RRO - British Columbia
This standard was prepared by the Apprenticeship and Sectoral Initiatives Directorate of ESDC. The coordinating, facilitating and processing of this standard were undertaken by employees of the standards development team of the Trades and Apprenticeship Division and of Saskatchewan, the host jurisdiction for this trade.
Structure of the Occupational Standard
This standard contains the following sections:
Methodology: an overview of the process for development, review, validation and weighting of the standard
Description of the Roofer trade: an overview of the trade's duties, work environment, job requirements, similar occupations and career progression
Trends in the Roofer trade: some of the trends identified by industry as being the most important for workers in this trade
Essential Skills Summary: an overview of how each of the nine essential skills is applied in this trade
Industry Expected Performance: description of the expectations regarding the level of performance of the tasks, including information related to specific codes, regulations and standards that must be observed
Language Requirements: description of the language requirements for working and studying in this trade in Canada
Pie Chart of Red Seal Examination Weightings: a graph which depicts the national percentages of exam questions assigned to the major work activities
Task Matrix: a chart which outlines graphically the major work activities, tasks and sub-tasks of this standard
Harmonization of Apprenticeship Training: the aspects of apprenticeship training that participating provinces and territories have agreed upon to substantively align apprenticeship systems across Canada
Major Work Activity (MWA): the largest division within the standard that is comprised of a distinct set of trade activities

Task: distinct actions that describe the activities within a major work activity
Task Descriptor: a general description of the task

Sub-task: distinct actions that describe the activities within a task

Skills:

Performance Criteria: description of the activities that are done as the sub-task is performed
Evidence of Attainment: proof that the activities of the sub-task meet the expected performance of a tradesperson who has reached journeyperson level

Knowledge:

Learning Outcomes: describes what should be learned relating to a sub-task while participating in technical or in-school training
Learning Objectives: topics to be covered during technical or in-school training in order to meet the learning outcomes for the sub-task
Range of Variables: elements that provide a more in-depth description of a term used in the performance criteria, evidence of attainment, learning outcomes, or learning objectives

Appendix A – Acronyms: a list of acronyms used in the standard with their full name
Appendix B – Tools and Equipment / Outils et équipement: a non-exhaustive list of tools and equipment used in this trade
Appendix C – Glossary / Glossaire: definitions or explanations of selected technical terms used in the standard
Methodology
Development of the Standard
A draft standard is developed by a broad group of trade representatives, including tradespeople, instructors and employers at a National Workshop led by a team of facilitators. This draft standard breaks down all the tasks performed in the occupation and describes the knowledge and abilities required for a tradesperson to demonstrate competence in the trade.
Harmonization of Apprenticeship Training
An analysis of all provinces' and territories' apprenticeship programs is performed and recommendations are made on harmonizing the name of the trade, the hours of training required and the number of levels of training. Provinces and territories consult with their respective industry stakeholders on these elements and revisions are discussed until consensus is reached. Following the development of the workshop draft of the RSOS, participants discuss and come to consensus on the sequence of training topics, as expressed in the new standard. Their sequencing recommendations are reviewed by stakeholders in participating provinces and territories and further discussions are convened to reach consensus and to identify any exceptions.
Online Survey
Stakeholders are asked to review and validate the activities described in the new standard via an online survey. These stakeholders are invited to participate in this consultation through apprenticeship authorities, as well as national stakeholder groups.
Draft Review
The RSOS development team forwards a copy of the standard and its translation to provincial and territorial authorities who consult with industry representatives to review it. Their recommendations are assessed and incorporated into the standard.
Validation and Weighting
Participating provinces and territories also consult with industry to validate and weight the document for the purpose of planning the makeup of the Red Seal Interprovincial Examination for the trade. They validate and weight the major work activities (MWA), tasks and sub-tasks, of the standard as follows:
MWA - Each jurisdiction assigns a percentage of questions to each MWA for an examination that would cover the entire trade.
Tasks - Each jurisdiction assigns a percentage of exam questions to each task within a MWA.
Sub-Tasks - Each jurisdiction indicates, with a Yes or No, whether or not each sub-task is performed by skilled workers within the occupation in its jurisdiction.
The results of this exercise are submitted to the RSOS development team who then analyzes the data and incorporates it into the document. The RSOS provides the individual jurisdictional validation results as well as the national averages of all responses. The national averages for MWA and task weighting guide the Interprovincial Red Seal Examination plan for the trade.
The validation of the RSOS is used to identify common core sub-tasks across Canada for the occupation. If at least 70% of the responding jurisdictions' industry performs a sub-task, it shall be considered common core. Interprovincial Red Seal Examination questions are limited to the common core sub-tasks identified through this validation process.
Definitions for Validation and Weighting
Yes

sub-task performed by qualified workers in the occupation in that province or territory

No

sub-task not performed by qualified workers in the occupation in that province or territory

NV

standard Not Validated by that province or territory

ND

trade Not Designated in a province or territory

Not Common Core (NCC)

sub-task, task or MWA performed less than 70% of responding jurisdictions; these will not be tested by the Interprovincial Red Seal Examination for the trade

National Average %

average percentage of questions assigned to each MWA and task in Interprovincial Red Seal Examination for the trade
Provincial/Territorial Abbreviations
NL

Newfoundland and Labrador

NS

Nova Scotia

PE

Prince Edward Island

NB

New Brunswick

QC

Quebec

ON

Ontario

MB

Manitoba

SK

Saskatchewan

AB

Alberta

BC

British Columbia

NT

Northwest Territories

YT

Yukon Territory

NU

Nunavut
Description of the Roofer trade
"Roofer" is this trade's official Red Seal occupational title approved by the CCDA. This standard covers tasks performed by roofers whose occupational title has been identified by some provinces and territories of Canada under the following names:
English Provincial and Territorial Trade Names

| | NL | NS | PE | NB | QC | ON | MB | SK | AB | BC | YT | NT | NU |
| --- | --- | --- | --- | --- | --- | --- | --- | --- | --- | --- | --- | --- | --- |
| Roofer | NL | NS | PE | NB | QC | ON | MB | SK | AB | - | YT | NT | NU |
| Roofer (Roofer, Damp and Waterproofer) | - | - | - | - | - | - | - | - | - | BC | - | - | - |
Roofers install, repair, maintain and replace roofing systems. They work with membrane roofing systems that consist of a variety of materials with different application methods. They also install, replace, maintain and repair shingles, slates, shakes, roofing tiles, sheet metal and other pre-formed sheeting on sloped roofs.
Before the work begins, roofers may inspect existing roof systems and determine the extent and procedure for repair of the roofing assembly components or removal, re-covering and replacement of roofing materials. Some roofers may be involved in the estimating of material and installation costs.
As part of the job preparation, roofers may set up scaffolding to provide safe access to the work area and may install fall protection systems. They also weatherproof, waterproof and damp-proof roofing surfaces, foundation walls, floor slabs and bridge decks. They may install roofing accessories such as sheet metal flashings, roof vent flashings, anchor tie-off flashings, drain inserts and clamps.
Roofers may be employed by roofing companies, general contractors or they may be self-employed. They may work on all types of roofs or may specialize in the low sloped roofs of commercial and industrial buildings or on the steep sloped roofs found in most residential buildings.
Key attributes for people in this trade are mechanical aptitude, manual dexterity and the ability to work in a team. Roofers work primarily outdoors and work may be seasonal. The work environment is exposed and may vary from extreme cold to extreme heat. Roofing is physically demanding work and requires considerable effort in lifting, climbing, bending, kneeling and balancing on high, sloped and sometimes slippery surfaces.
Roofers work in conjunction with other tradespeople in the construction trades such as sheet metal workers, mechanical contractors, electricians and carpenters in industrial, commercial, institutional and residential sectors. With additional training, roofers may transfer their skills to related occupations such as carpenter, sheet metal worker, bricklayer and glazier. With experience, they may advance to positions such as supervisors, estimators, project managers, contractors, consultants, technical representatives or inspectors.
Trends in the Roofer trade
New products
There is an increase in the types of roofing system designs available to meet the ever-changing Canadian environment. Eco-friendlier roof designs such as green roofs and reflective roof materials are more common. In addition, more environmentally friendly products are being used, such as single-ply membranes, cold-applied and mechanically fastened systems, rather than hot-applied bitumen.
Due to the environmental impacts and health risks of hot asphalt products, new innovations such as low-rise adhesives are replacing these products in many roof system designs. These adhesives may have their own risks and must be used according to manufacturers' specifications.
On low slope roofing, chemical adhesives are reducing the need for asphalt and mechanical fasteners. In many roof applications, there are more self-adhesive materials that are used. The use of adhesives reduces thermal bridging that is inherent with mechanical fasteners.
There are new adhesives on the market that are low-volatile organic compounds (LVOC) that are replacing solvent-based adhesives which are used for the securement of roofing components. These new adhesives reduce volatile off-gassing in confined spaces.
Cold applied systems reduce the risk of fire during installation. Insurance companies and manufacturers are supporting this method as a safer way to install the roofing system.
There is an increase in synthetic underlayments on the market. These are applied under a steep slope roof and are lighter and last longer than traditional barriers.
Terminology in the industry is evolving as well. For example, the acronyms MARS, AARS and PARS are entering the roofing vocabulary. MARS stands for mechanically attached roofing system. AARS stands for adhesive adhered roofing system. PARS stands for partially adhered roofing system.
Tools and equipment
The trade has become more mechanized with many pieces of equipment such as automatic membrane installation equipment and heat induction equipment. These have increased productivity and efficiency and may reduce labour requirements. They may also help reduce the risk of personal injury and property damage. Roofers need to be trained in the proper use and maintenance of this new equipment.
Health and safety
There is more emphasis on safety training and orientation in the workplace. In some jurisdictions, it is mandatory for employees to take fall protection / working at heights, and site and task specific safety policy and procedures training.
Mobile fall protection systems are now being used to reduce risk and injury on buildings that do not have permanent anchoring systems in place.
Environmental
Recycling roofing materials and refacing are becoming more popular due to environmental concerns and LEED requirements on construction projects. These new practices may reduce disposal costs.
Essential skills summary
Essential skills are needed for work, learning and life. They provide the foundation for learning all other skills and enable people to evolve with their jobs and adapt to workplace change.
Through extensive research, the Government of Canada and other national and international agencies have identified and validated nine essential skills. These skills are used in nearly every occupation and throughout daily life in different ways.
A series of CCDA-endorsed tools have been developed to support apprentices in their training and to be better prepared for a career in the trades. The tools can be used independently or with the assistance of a tradesperson, trainer, employer, teacher or mentor to:
understand how essential skills are used in the trades;
learn about individual essential skills strengths and areas for improvement; and
improve essential skills and increase success in an apprenticeship program.
The tools are available online or for order at:
The application of these skills may be described throughout this document within the skills and knowledge which support each sub-task of the trade. The following are summaries of the requirements in each of the essential skills, taken from the essential skills profile. A link to the complete essential skills profile can be found at http://www.red-seal.ca/.
Reading

Roofers read instructions on work orders as well as application and installation instructions for roofing products and materials. They read information sheets to learn about new products and materials. They also need to refer to blueprints and specifications to complete roofing jobs.

Document use

Roofers reference documents such as work orders, plans and specifications and site-specific safety plans that are required for construction, alteration and repairs. They identify the location and orientation of parts in assembly drawings of equipment. Roofers read Workplace Hazardous Material Information System (WHMIS) documentation to obtain and follow safe handling and application procedures.

Writing

Roofers may write in logbooks and on contract forms and work orders to describe the work that needs to be done. They may fill out maintenance and inspection reports. They are required to complete safety documents according to jurisdictional regulations.

Oral communication

Roofers communicate with colleagues, other trade workers, manufacturers and supervisors to discuss and review job and safety requirements. They speak to customers to explain procedures used for application and disposal of roofing materials. They may also use specialized communication such as hand signals to communicate with crane or hoist operators when moving materials and equipment.

Numeracy

Roofers measure the length, width and height of roof surfaces so they can order the correct amount of materials to complete a roofing job. They also use drawings to calculate material requirements. Roofers use numeracy skills to determine the layout of shingles. They may use thermometers to measure the temperature of roofing materials and working environments to ensure conditions are appropriate for application of the materials.

Thinking

Roofers use problem solving skills to address oversights and discrepancies on the job site. They assess roof conditions and consult with supervisors and clients to adjust the scope of a roofing job. They must anticipate changes in weather to prevent damage to an existing roofing structure and to roofing material. Roofers use decision making skills to decide the start and end of work considering factors such as weather and the availability of supplies and labour. They use critical thinking skills to judge the quality of finished roofing jobs. They also test to make sure roofing materials are sealed and have adhered properly.

Working with others

Most roofers work collaboratively on teams to complete roofing projects. They discuss safety, work processes, installation improvements and quality control.

Digital technology

Roofers may use digital technology to communicate with others in the industry. They may also use the Internet to look up product and safety information. Documentation is increasingly being accessed and completed with digital tools such as smart phones, tablets and laptops. Specialized apps are available for accessing manufacturers' information and installation instructions.

Continuous learning

Roofers are continuously learning in order to keep abreast of new roofing products, application procedures and safety precautions. They take WHMIS and provincial/territorial construction safety courses, as well as other safety-related courses to stay current. Manufacturers sometimes provide training on their products. Roofers may also learn from manuals and newsletters.
Industry expected performance
All tasks must be performed according to the applicable jurisdictional regulations, codes and standards. All health and safety standards must be respected and observed. Work should be done efficiently and to a high quality without material waste or environmental damage. All requirements of employers, engineers, designers, manufacturers, clients and quality control policies must be met. At a journeyperson level of performance, all tasks must be done with minimal direction and supervision. As a journeyperson progresses in their career there is an expectation they continue to upgrade their skills and knowledge to maintain pace with industry and promote continuous learning in their trade through mentoring of apprentices.
Language requirements
It is expected that journeypersons are able to understand and communicate in either English or French, which are Canada's official languages. English or French are the common languages of business as well as languages of instruction in apprenticeship programs.
Pie chart of Red Seal examination weightings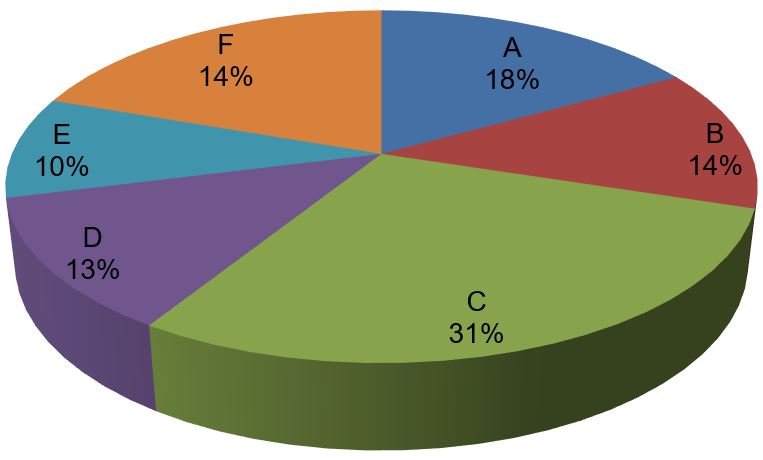 This pie chart represents a breakdown of the interprovincial Red Seal examination. Percentages are based on the collective input from workers from the trade from across Canada. The Task Matrix on the next pages indicates the breakdown of tasks and sub-tasks within each Major Work Activity and the breakdown of questions assigned to the Tasks. The Interprovincial examination for this trade has 125 questions.
Roofer - Task matrix
MWA A – Performs common occupational skills - 18%
Task A-1 Performs safety-related functions 32%

A-1.01 Maintains safe work environment
A-1.02 Uses personal protective equipment (PPE) and safety equipment

Task A-2 Uses tools and equipment 30%

A-2.01 Uses hand tools
A-2.02 Uses power tools, pneumatic tools, and hot-air welding, induction and fuelled equipment
A-2.03 Uses hoisting, lifting and rigging equipment
A-2.04 Uses access equipment
A-2.05 Uses hot process equipment
A-2.06 Uses motorized equipment

Task A-3 Organizes Work 24%

A-3.01 Uses documentation and reference materials
A-3.02 Interprets blueprints and drawings
A-3.03 Estimates material
A-3.04 Assesses worksite conditions
A-3.05 Positions equipment and material on the ground and on the roof
A-3.06 Prepares material disposal systems
A-3.07 Evaluates roof conditions near rooftop equipment installations

Task A-4 Uses communication and mentoring techniques 14%

A-4.01 Uses communication techniques
A-4.02 Uses mentoring techniques
MWA B – Prepares roof and deck - 14%
Task B-5 Prepares roof for replacement 53%

B-5.01 Protects surrounding area
B-5.02 Removes loose debris
B-5.03 Removes roofing and flashings
B-5.04 Prepares roof substrate
B-5.05 Performs minor adjustments to penetrations, curbs and parapets

Task B-6 Prepares deck for roof installation 47%

B-6.01 Inspects deck
B-6.02 Cleans surface of deck
B-6.03 Verifies placement of roof penetrations, curbs and parapets
B-6.04 Dries deck
MWA C – Installs low slope roofing - 31%
Task C-7 Applies low slope roofing components 49%

C-7.01 Installs support panels
C-7.02 Primes substrate
C-7.03 Applies vapour retarder, vapour barrier and air barrier
C-7.04 Installs insulation
C-7.05 Installs cover board
C-7.06 Installs drains, vents, curbs and penetrations
C-7.07 Applies ballast, walkways and protective surfaces
C-7.08 Installs metal flashings

Task C-8 Applies low slope roofing membranes 51%

C-8.01 Relaxes membranes
C-8.02 Sets membranes
C-8.03 Applies membranes using hot-liquid process
C-8.04 Applies membranes using torched-on method
C-8.05 Applies membranes using hot-air welding
C-8.06 Applies membranes using cold applied methods
C-8.07 Applies membranes using mechanical fasteners
C-8.08 Applies loose-laid membranes
C-8.09 Applies liquid-applied membranes
C-8.10 Installs membrane flashings
C-8.11 Installs temporary seals and temporary drains
MWA D – Installs steep slope roofing - 13%
Task D-9 Performs common steep slope practices 34%

D-9.01 Installs steep slope underlayment
D-9.02 Installs steep slope venting
D-9.03 Installs steep slope valley applications
D-9.04 Installs steep slope saddles/crickets
D-9.05 Installs steep slope penetration flashings

Task D-10 Applies shingles 33%

D-10.01 Determines layout of shingles
D-10.02 Installs starter strip and starter course
D-10.03 Fastens shingles
D-10.04 Cuts shingles
D-10.05 Tabs shingles
D-10.06 Installs metal flashings for shingled roofs

Task D-11 Applies roof tiles 14%

D-11.01 Installs battens/strapping for roof tiles
D-11.02 Fastens roof tiles
D-11.03 Cuts roof tiles
D-11.04 Installs closure strips for roof tiles
D-11.05 Installs ridge and hip caps
D-11.06 Installs metal flashings for tiled roofs

Task D-12 Applies pre-formed metal roofing 19%

D-12.01 Installs battens/strapping for pre-formed metal roofing
D-12.02 Fastens pre-formed metal roofing
D-12.03 Cuts sheet metal
D-12.04 Installs closure strips for pre-formed metal roofing
D-12.05 Installs snow guards
D-12.06 Installs metal flashings for pre-formed metal roofs
MWA E – Waterproofs and damp-proofs surfaces - 10%
Task E-13 Waterproofs surfaces 65%

E-13.01 Prepares waterproofing substrates
E-13.02 Applies waterproofing membrane
E-13.03 Installs green, sustainable, vegetative and protected membrane components

Task E-14 Damp-proofs surfaces 35%

E-14.01 Applies damp-proofing materials
E-14.02 Applies protection layer
MWA F – Assesses, maintains and repairs roof - 14%
Task F-15 Assesses roof condition 30%

F-15.01 Performs roof inspections
F-15.02 Performs cut test
F-15.03 Determines maintenance or repair required

Task F-16 Maintains and repairs low slope roofing 42%

F-16.01 Maintains low slope roofing
F-16.02 Repairs low slope roofing

Task F-17 Maintains and repairs steep slope roofing 28%

F-17.01 Maintains steep slope roofing
F-17.02 Repairs steep slope roofing
Harmonization of apprenticeship training
Provincial and territorial apprenticeship authorities are each responsible for their respective apprenticeship programs. In the spirit of continual improvement, and to facilitate mobility among apprentices in Canada, participating authorities have agreed to work towards harmonizing certain aspects of their programs where possible. After consulting with their stakeholders in the trade, they have reached consensus on the following elements. Note that implementation of these elements may vary from jurisdiction to jurisdiction, depending on their own circumstances. For more information on the implementation in any province and territory, please contact that jurisdiction's apprenticeship authority.
1. Trade name
The official Red Seal name for this trade is Roofer.
2. Number of Levels of Apprenticeship
The number of levels of technical training recommended for this trade is three (3).
3. Total Training Hours During Apprenticeship Training
The total hours of training, including both on-the-job and in-school training for this trade is 5400.
4. Sequencing Topics and Related Subtasks
The topic titles in the table below are placed in a column for each apprenticeship level for technical training. Each topic is accompanied by the subtasks and their reference number. The topics in the grey shaded cells represent those that are covered "in context" with other training in the subsequent years.
Apprenticeship level for technical training
Level 1
Level 2
Level 3
-
Context
Context
-
Performs safety-related functions
Performs safety-related functions
-
Common steep slope practices
Common steep slope practices
Performs safety-related functions
1.01 Maintains safe work environment
1.02 Uses personal protective equipment (PPE) and safety equipment
-
-
Uses tools and equipment
(Overview)
2.01 Uses hand tools
2.02 Uses power tools, pneumatic tools, and hot-air welding, induction and fuelled equipment
2.03 Uses hoisting, lifting and rigging equipment
2.04 Uses access equipment
2.05 Uses hot process equipment
2.06 Uses motorized equipment
Uses tools and equipment
(Task Specific)
2.01 Uses hand tools
2.02 Uses power tools, pneumatic tools, and hot-air welding, induction and fuelled equipment
2.03 Uses hoisting, lifting and rigging equipment
2.04 Uses access equipment
2.05 Uses hot process equipment
2.06 Uses motorized equipment
Uses tools and equipment
(Task Specific)2.01 Uses hand tools
2.02 Uses power tools, pneumatic tools, and hot-air welding, induction and fuelled equipment
2.03 Uses hoisting, lifting and rigging equipment
2.04 Uses access equipment
2.05 Uses hot process equipment
2.06 Uses motorized equipment
Organizes Work
3.01 Uses documentation and reference materials
3.02 Interprets blueprints and drawings
3.04 Assesses worksite conditions
3.05 Positions equipment and material on the ground and on the roof
3.06 Prepares material disposal systems
Organizes Work
3.01 Uses documentation and reference materials
3.02 Interprets blueprints and drawings
3.04 Assesses worksite conditions
3.05 Positions equipment and material on the ground and on the roof
3.06 Prepares material disposal systems
Organizes Work
3.02 Interprets blueprints and drawings
3.03 Estimates material
3.07 Evaluates roof conditions near roof-top equipment installations
Uses communication techniques
4.01 Uses communication techniques
-
Uses communication and mentoring techniques
4.01 Uses communication techniques
4.02 Uses mentoring techniques
Prepares roof for replacement
5.01 Protects surrounding area
5.02 Removes loose debris
5.03 Removes roofing and flashings
Prepares roof for replacement
5.04 Prepares roof substrate
5.05 Performs minor adjustments to penetrations, curbs and parapets
-
Prepares deck for roof installation
6.02 Cleans surface of deck
6.04 Dries deck
Prepares deck for roof installation
6.01 Inspects deck
6.03 Verifies placement of roof penetrations, curbs and parapets
Prepares deck for roof installation
6.01 Inspects deck
6.03 Verifies placement of roof penetrations, curbs and parapets
Applies low slope roofing components
(Overview/Identification of Components)
7.01 Installs support panels
7.02 Primes substrate
7.03 Applies vapour retarder, vapour barrier and air barrier
7.04 Installs insulation
7.05 Installs cover board
7.06 Installs drains, vents, curbs and penetrations
7.07 Applies ballast, walkways and protective surfaces
7.08 Installs metal flashings
Applies low slope roofing components
7.01 Installs support panels
7.02 Primes substrate
7.03 Applies vapour retarder, vapour barrier and air barrier
7.04 Installs insulation
7.05 Installs cover board
7.06 Installs drains, vents, curbs and penetrations
7.07 Applies ballast, walkways and protective surfaces
7.08 Installs metal flashings
Applies low slope roofing components
(Trade Science/Installation of Components)
7.01 Installs support panels
7.02 Primes substrate
7.03 Applies vapour retarder, vapour barrier and air barrier
7.04 Installs insulation
7.05 Installs cover board
7.06 Installs drains, vents, curbs and penetrations
7.07 Applies ballast, walkways and protective surfaces
7.08 Installs metal flashings
Applies low slope roofing membranes
(BUR)
8.01 Relaxes membranes
8.02 Sets membranes
8.03 Applies membranes using hot-liquid process
8.06 Applies membranes using cold-applied methods
8.07 Applies membranes using mechanical fasteners
8.10 Installs membrane flashings
8.11 Installs temporary seals and temporary drains
Applies low slope roofing membranes
(Modified Bitumen)
8.01 Relaxes membranes
8.02 Sets membranes
8.03 Applies membranes using hot-liquid process
8.04 Applies membranes using torched-on method
8.05 Applies membranes using hot-air welding
8.06 Applies membranes using cold-applied methods
8.07 Applies membranes using mechanical fasteners
8.10 Installs membrane flashings
8.11 Installs temporary seals and temporary drains
Applies low slope roofing membranes
(Thermoplastics, Thermosets, Liquid-applied,
Trade Science)
8.01 Relaxes membranes
8.02 Sets membranes
8.03 Applies membranes using hot-liquid process
8.05 Applies membranes using hot-air welding
8.06 Applies membranes using cold-applied methods
8.07 Applies membranes using mechanical fasteners
8.08 Applies loose-laid membranes
8.09 Applies liquid-applied membranes
8.10 Installs membrane flashings
8.11 Installs temporary seals and temporary drains
Common steep slope practices
9.01 Installs steep slope underlayment
9.02 Installs steep slope venting
9.03 Installs steep slope valley applications
9.04 Installs steep slope saddles/crickets
9.05 Installs steep slope penetration flashings
-
-
Applies shingles
(Asphalt)
10.01 Determines layout of shingles
10.02 Installs starter strip and starter course
10.03 Fastens shingles
10.04 Cuts shingles
10.05 Tabs shingles
10.06 Installs metal flashings for shingled roofs
Applies shingles
(Wood and Composite)
10.01 Determines layout of shingles
10.02 Installs starter strip and starter course
10.03 Fastens shingles
10.04 Cuts shingles
10.06 Installs metal flashings for shingled roofs
Applies shingles
(Metal)
10.01 Determines layout of shingles
10.02 Installs starter strip and starter course
10.03 Fastens shingles
10.04 Cuts shingles
10.06 Installs metal flashings for shingled roofs
-
-
Applies roof tiles
11.01 Installs battens/strapping for roof tiles
11.02 Fastens roof tiles
11.03 Cuts roof tiles
11.04 Installs closure strips for roof tiles
11.05 Installs ridge and hip caps
11.06 Installs metal flashings for tiled roofs
-
-
Applies pre-formed metal roofing
12.01 Installs battens/strapping for pre-formed metal roofing
12.02 Fastens pre-formed metal roofing
12.03 Cuts sheet metal
12.04 Installs closure strips for pre-formed metal roofing
12.05 Installs snow guards
12.06 Installs metal flashings for pre-formed metal roofs
-
Waterproofs surfaces
13.01 Prepares waterproofing substrates
13.02 Applies waterproofing membrane
Waterproofs surfaces
13.03 Installs green, sustainable, vegetative and protected membrane components
-
Damp-proofs surfaces
14.01 Applies damp-proofing materials
14.02 Applies protection layer
-
-
Assesses roof condition
15.01 Performs roof inspections
15.02 Performs cut test
15.03 Determines maintenance or repair required
-
Maintains and repairs low slope roofing
16.01 Maintains low slope roofing
16.02 Repairs low slope roofing
Maintains and repairs low slope roofing
16.01 Maintains low slope roofing
16.02 Repairs low slope roofing
-
Maintains and repairs steep slope roofing
17.01 Maintains steep slope roofing
17.02 Repairs steep slope roofing
Maintains and repairs steep slope roofing
17.01 Maintains steep slope roofing
17.02 Repairs steep slope roofing